The Charity has developed two major fundraising events to support the charitable purposes and programs.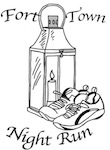 The first event is the Fort Town Night Run in Prescott, ON. The Charity hosts this Kids 1K Fun Run, 5K & 10K race event. The courses will take runners and walkers on a tour of Prescott's historical buildings and landmarks, as well as our beautiful waterfront and inviting residential streets. The event starts and ends at Fort Wellington, and includes live music, food, and a celebration for the whole community. For more information, please visit the Fort Town Night Run's webpage at www.forttownnightrun.com.



Our second event is the Annual Fort Town Steampunk Festival. We invite all for family-fun at Fort Wellington with a full day of festivities, an assortment of vendors, hot air balloons tethered at 100 meters, a blacksmith's forge, entertainment, Tea Duelling, Air Gun Duelling, & Parasol Duelling. For more information, please visit the Charity's Fort Town Steampunk Festival's webpage.